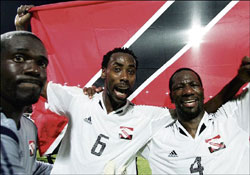 Trinidad and Tobago's Kelvin Jack (left), Dennis Lawrence (centre) and Marvin Andrews (right) celebrate at the end of their match after beating Bahrain during the second leg of the FIFA World Cup 2006 qualifying play-off at Bahrain National Stadium in Manama yesterday. Trinidad won 1-0 to advance to the World Cup. - REUTERS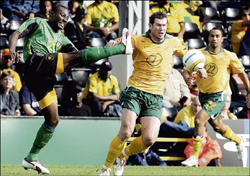 Australia's Brett Emerton (centre) is tackled by Jamaica's Desmond Breakenridge (left), as Archie Thompson runs in during their international friendly soccer match at Craven Cottage, London yesterday. Jamaica lost 0-5.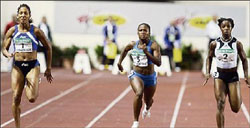 Veronica Campbell of Jamaica (right) sprints away to win the 100 metres of the IAAF World Athletics Final in 10.92 seconds in Monaco yesterday. Campbell won ahead of Christine Arron of France (left) and United States world champion Lauryn Williams (centre).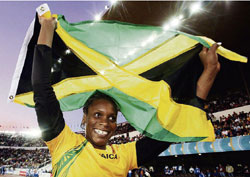 Jamaican Trecia Smith celebrates after winning the women's triple jump final at the World Athletics Championships in Helsinki, Finland, yesterday. Smith recorded 15.11 metres with her fifth attempt to seize the title on Sunday. Cuban Yargelis Savigne took the silver medal with a personal best of 14.82, four centimetres ahead of Russian Anna Pyatykh.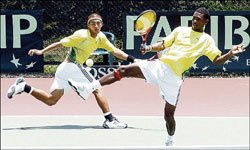 Jamaica's doubles team of Ryan Russell (left) and Damar Johnson in action during their Americas Zone group two Davis Cup tie against Cuba at the Liguanea Club.JUNIOR DOWIE/STAFF PHOTOGRAPHER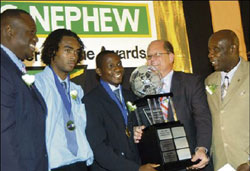 Larry Watson (second right), managing director of Wray and Nephew's distribution division, hands the National Premier League (NPL) Championship Trophy to Portmore United's coach, Paul Young (centre), at Monday night's awards ceremony at UWI. Looking on from left are Andrew Price, communications and promotions manager at Wray and Nephew, Portmore's skipper, Kevin Deerr, and Crenston Boxhill, president of the Jamaica Football Federation. WINSTON SILL/FREELANCE PHOTOGRAPHER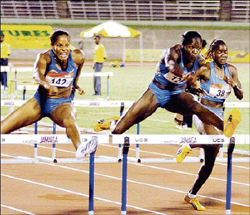 Brigitte Foster-Hylton (left) and Delloreen Ennis-London (centre) going over the final hurdle in women's 100m event at the National Stadium last night. Both women hit the finish line in 12.59 seconds as the race ended in a thrilling dead heat. Andrea Bliss (right) was fifth in 12.83.RICARDO MAKYN/STAFF PHOTOGRAPHER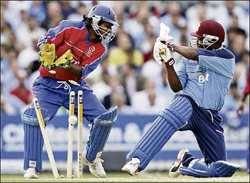 International XI captain Brian Lara (right) is clean bowled as Asia XI wicket keeper Kumar Sangakkara looks on during their charity tsunami relief game at the Oval in London yesterday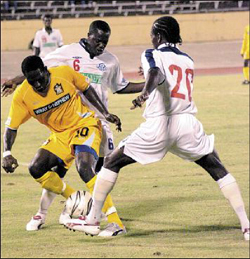 Waterhouse striker Kevin Lamey (centre) tries to dribble from the midst of Portmore United's Ryan Powell (right) and Leon Williams during the second leg semi-finals of the Wray and Nephew National Premier League at the National Stadium last night. Lamey scored for Waterhouse, which lost 3-1 to Portmore. PHOTOS BY IAN ALLEN/STAFF PHOTOGRAPHER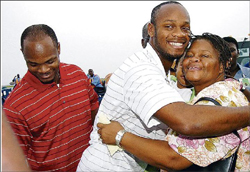 The world's fastest man, Jamaica's Asafa Powell, is embraced by his mother Cislyn Powell while his brother, Nigel Powell, beams in in the background. Powell arived in the island yesterday afternoon after setting a new world 100-metre record, 9.77, in Athens, Greece on Tuesday. junior dowie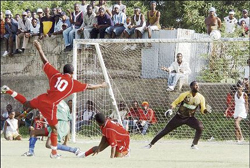 Boys' Town's Michael Campbell (left) fires pass Alrick Henry of Seba, to give Boys' Town a 1-0 lead in their National Premier League playoff game at Collie Smith yesterday. Seba came from behind to win 3-1. CARLINGTON WILMOT/FREELANCE PHOTOGRAPHER

Village United goalkeeper Elvis Hart is comprehensively beaten by a shot from the boot of Tivoli Garden's Christopher Nicholas (not seen) for his second of four goals at the Edward Seaga Stadium yesterday. Tivoli won the game 4-0.UNIOR DOWIE/STAFF PHOTOGRAPHER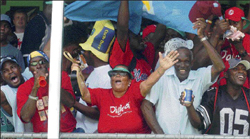 West Indian fans celebrate a long-awaited Test victory as the team crushed Pakistan by 276 runs in the first Test match of the Digicel Series at Kensington Oval, Barbados, yesterday.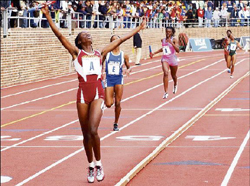 RIGHT: Sonita Sutherland (A) celebrates as she crosses the line to lead Holmwood Technical to a win in the High School Girls' 4x400m relay on the second day of the 111th Penn Relays. Holmwood won in a time of 3:40.37 as Sutherland ran a brilliant 52.7 seconds split. Behind her is Edwin Allen's Sherene Pinnock (E) who was second, while in third place is West Catholic of Philadelphia anchored by 400m hurdles champion Nicole Leach.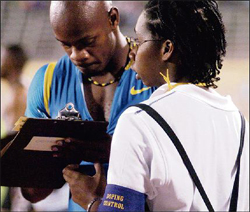 World leading 100 metres sprinter Asafa Powell (left) is approached by a doping control officer after clocking an astonishing 9.84 seconds, a new national record, at the Jamaica International Invitational Track Meet at the National Stadium on Saturday night. IAN ALLEN/STAFF PHOTOGRAPHER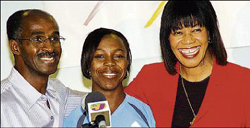 Athens Olympics 200m champion Veronica Campbell (centre) at the Hilton Kingston Hotel yesterday. Campbell who will compete in the 200m at today's Jamaica International Invitation meet is flanked by meet organiser Donald Quarrie and Minister of Local Government and Sport Portia Simpson-Miller. Quarrie is also an Olympic 200m champion. He won gold at the Montreal Games in 1976. NORMAN GRINDLEY/DEPUTY CHIEF PHOTOGRAPHER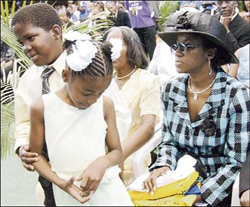 Da-vid and Danique Cargill stand in front of their mother, Avril, the widow of Peter Cargill, at the funeral for the former national player at the National Arena yesterday. RICARDO MAKYN/STAFF PHOTOGRAPHER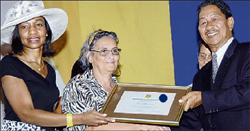 Veteran sculptress Kay Sullivan (centre) was honoured for her work in the arts at the Courts Jamaica Oaks Raceday at Caymanas Park on Saturday April 23. Presenting her with the citation are William Chin-See, chairman of Caymanas Track Limited; and Judith Forth-Blake, director of marketing at Courts Jamaica Ltd. RICARDO MAKYN/STAFF PHOTOGRAPHER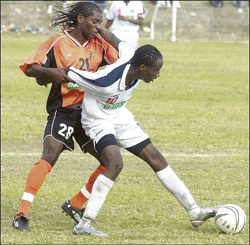 Tivoli Garden's Fabian Davis (left) fights for possession of the ball with Kemeel Wolfe of Portmore during their last encounter at the Ferdie Neita Park. Portmore won. RICARDO MAKYN/STAFF PHOTOGRAPHER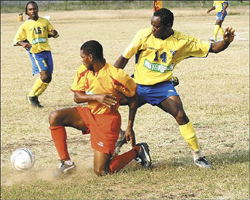 Nicardo Folkes of Village United (centre) tries to scramble the ball away while on one knee before the Arlington player Xavier Watt could get to it in the first half of their Wray and Nephew National Premier League game at the Elliston Wakeland Centre on Sunday. Village won 1-0.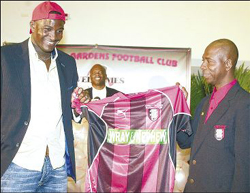 Striker Onandi Lowe (left) is presented with his team kit by Michael Deer of Arnett Gardens Football Club during yesterday's official unveiling of the former Coventry City player. Lowe will play his first match of the season for Arnett Gardens this afternoon in the Red Stripe Champions Cup Knockout against Los Perfectos. JUNIOR DOWIE/STAFF PHOTOGRAPHER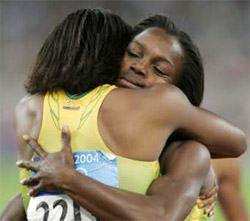 Jamaica's Veronica Campbell wins the 200M to give the island's its first gold medal at the Athens 2004 Olympic Games in a personal best and world leading time for 2004 of 22.05s,Aleen Bailey was 4th in 22.42s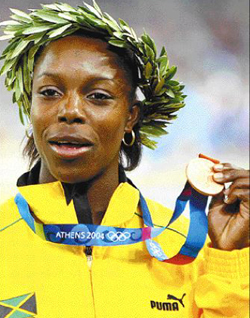 Jamaica's Veronica Campbell shows her bronze medal for the women's 100 metres at the Athens 2004 Olympic Games yesterday. Campbell took bronze on Saturday behind Belarus's Yuliya Nesterenko and Lauryn Williams of the United States.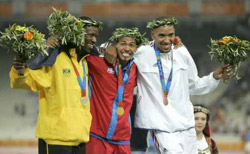 Jamaica's Danny McFarlane, Dominican Republic's Felix Sanchez and France's Naman Keita (L-R) pose on the podium during the men's 400 metres hurdles medal ceremony at the Athens 2004 Olympic Games, August 26, 2004. Sanchez won the gold in a time of 47.63 seconds ahead of Jamaica's Danny McFarlane and France's Naman Keita. REUTER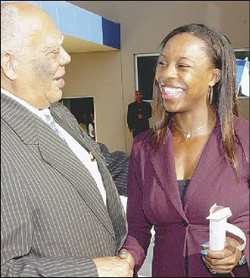 Double Olympic gold medallist in 2004, Veronica Campbell, shakes hands with Governor-General Sir Howard Cooke at the Gleaner Company yesterday. Ms. Campbell received a Gleaner Honour Award for Excellence in the field of sports. Campbell and Danny McFarlane were last night named Carreras Sportsman and Sportswoman for 2004. IAN ALLEN/Staff Photographer